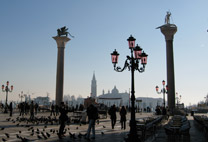 Request

Send an email to info@legugliebb.it or a fax to +39041713222. Please send your name, surname, date of check-in and check-out and number of people. You will receive reply regarding about aviability and prices asap.

Confirmation

To confirm a reservation it is necessary:

a) to deposit the price in euro of the room for 1 night in our account by bank transfer or postal order;

or,

b) to send us a fax on +39041713222 including:
name and surname,
phone number,
date and time of check-in and check-out,
number of people,
defined price,
all credit card details(CVC or CVV code included). Do not forget to sign.

The credit card information is provided only as a guarantee of reservation. No amount of money will be debited before your check-in.

Cancellation

To cancel a reservation the following payment policy will be applied:

The price of 1 night will be debited for any cancellations within a week before arrival or in case of no show.