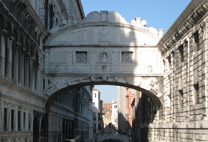 FAQs

At what time can we check-in and out?
Check-in is from 1.00 pm untill 5.00 pm, check-out before 11.00 am. Please, let us know in advance at what time you intend to check-in. You can leave your luggage in our custody your luggages at the arrival or departure
Is the price per room or per person?
The price is per room
Air conditioning/heating included in the price?
Yes, they are
Can we settle the bill on arrival?
Yes you can
How many floors are there in the building?Is there a lift?
There are three floors, Le Guglie LT is at the second .No, there is no lift in the building: Private houses don't usually have lifts here in Venice
Are towels and sheets provided by the b&b?
Yes, towels and sheets are provided by us and changed at every departure
Is it forbidden to smoke in the kichen?
Yes, it is forbidden to smoke in the building or on the terrace.
Do the rooms have TV?
Yes, they do
Is there a telephone with direct dialling in the rooms/appartment?
No
Is it possible to use the kitchen?
Not for cooking
Is there a wi-fi area or a internet connection in the property?
All rooms and the kitchen as well,are equipped with wireless WIFI Internet connection
Which is the nearest airport?
The Marco Polo International Airport. Le Guglie LT is linked during the daytime by Alilaguna private navigation service, Linea Arancio line.The journey takes about half an hour, and you have to get off at the "Guglie" stop
Which is the nearest train station?
Venezia Santa Lucia Train Station, in the centre of Venice, at 5 minutes walking distance from our appartment
Which are the nearest boat stops?
"Guglie" right in front of us or "Tre Archi" at 150 mt from our building
Are pets welcome?
No, they aren't.