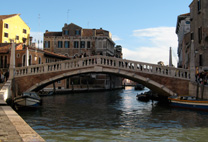 Reach Us

From Marco Polo International Airport
It is possible to reach us by boat, taking the Alilaguna Linea Arancio line(a private navigation service that leaves every hour from the airport). The crossing lasts about 35 minutes. You have to get off at the "Guglie"stop which is in front of our building. This service is aviable during the daytime only. For further information on timetables and costs please visit their site at :www.alilaguna.com

The airport is also linked to Venice(Piazzale Roma)also by the Actv Bus Service(Line 5)which stops several times before getting to Piazzale Roma.The journey takes about 30 minutes. From there it is possible to get the Actv boat line 52 or 42 and get off at the "Guglie"stop.For further information we suggest you visit the Actv site at: www.actv.it

From Piazzale Roma
It is possible to get an Actv boat, line 52 or 42 and get off at "Guglie"stop or walking towards Santa Lucia Train Station. Look the paragraph below to know how to proceed.

From the Santa Lucia Train Station
You reach our appartment in 5 minutes on foot following the map below. Walk down on Rio Terà Lista di Spagna street to the Ponte delle Guglie bridge direction. When you get to the bridge cross it and turn left immediately along the canal bank(fondamenta de Cannaregio) keep walking until you come across a street on your right called Calle de le Chiovarete with a drinking fountain at the beginning, Le Guglie LT is on your right.